Saudi Plastics & Petrochem 2020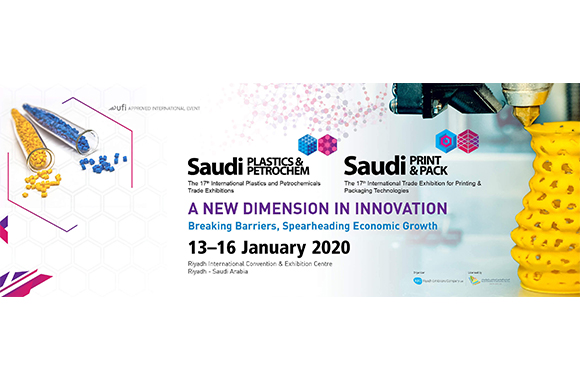 Date:

Jan. 13-16

Stand No.:

3-188

Venue:

Riyadh International Exhibition and Convention Center
Saudi Plastics and Petrochemicals 2020 held concurrently with Saudi Print and Pack 2020 is the leading event of its kind in the Kingdom of Saudi Arabia gathering together under one roof, industry professionals, businessmen, buyers and decision makers of these pivotal and important industries. As the nation seeks to march towards a path of development which has been carved by the Saudi Vision 2030 plan, exploring the potential of the plastics, petrochemicals, printing and packaging sector is imperative to promote industrial sustainability and enhance the capabilities and business potential of other sectors.
Why Saudi Plastics & Petrochem ?
Marching Towards More Sustainable Plastics & Petrochemicals.
Present the latest innovations, products and technologies in front of an audience of industry professionals from across the globe.
Establish brand presence and market your organization in a thriving economic zone within the Middle East.
Come face to face with key decision makers, businessmen and industry influencers representing the public and private sectors and discuss mutually beneficial offers.
Why Choosing Matila Industrial ?
Matila Industrial, established since 1988, has more experience in supplying whole plant plastic bags making lines. In 1999 , Matila built up the own production factory to produce the blown film machine and recycle machine with our own brand name. Until 2014, the whole series of blown film machines develop with advanced technology for HDPE/ LDPE/ LLDPE/ PP film width from 22.5cm to 10m. MATILA also fabricated the biggest 3 layers co-extrusion rotary die head with die diameter up to 1.2m.
In order to get closer to global buyers, Matila Industrial will participate in the Saudi Plastics & Petrochem 2020. We are glad to invite you to visit our stand at 3-188 from January 13 to 16, 2020 in Riyadh, Saudi Arabia.
High efficient blown film extrusion lines from Matila :